Anatomy: Vulva / Vagina – which is which?
Since we are not used to talking openly and neutrally about the female sexual organs, confusion surrounding the correct terms is quite common. The visible part of the female genitals is called the vulva, the muscle tube that leads from the vulva to the uterus is called the vagina. In the following illustration from the book "Hexengeflüster" (Whispering to Witches) you can see the vulva consisting of the labia majora (here with the 70s feminist term: large Venus lips) and labia minora (small Venus lips), the mouth of the urethra and of the vagina, as well as the clitoris, which is shown here as a pearl. I don't want to go into detail here about the rest of the anatomy – you can easily find other descriptions on the net. But a very important organ that I would like to draw your attention to is the cervix at the top of the vagina. More about this shortly.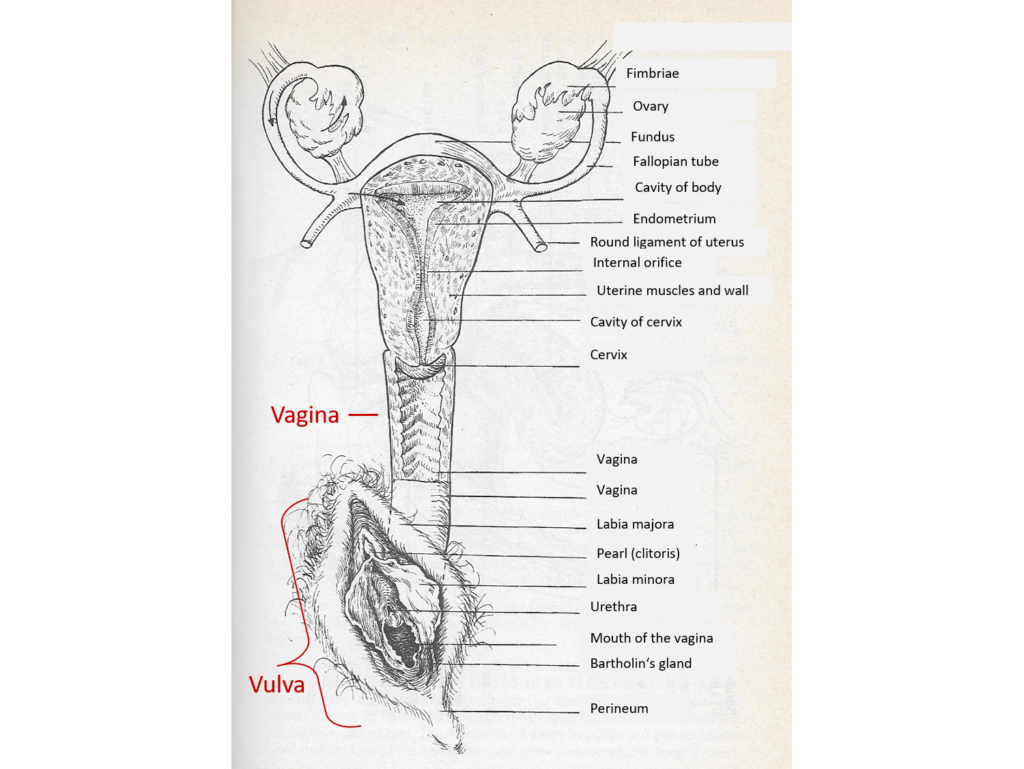 Fig. 1: Female genital anatomy*
First of all, let's get back to the "pearl". The clitoris is actually not just a little pearl but a much larger, winged organ that surrounds the vagina with outstretched "arms" and also has erectile tissue. In most textbooks the female sexual organs are shown in a cross-section of the body. And precisely from this perspective only the middle part of the clitoris is what might resemble a pearl. But all the rest of this organ is conveniently concealed!
By comparison, this would be like depicting the male genitals in cross-section, viewed 5 cm to the right, where one would see no penis at all – with just the right testicle still in view. Unbelievable! But with female genitals this is apparently no problem.
Here you can see the clitoris in all her beauty with her wings surrounding the vagina. From this perspective you are viewing the pelvis as if you had x-ray eyes and looking down onto the genital region as though standing in front of the woman. You can see the uterus at the top and the mons pubis at the bottom.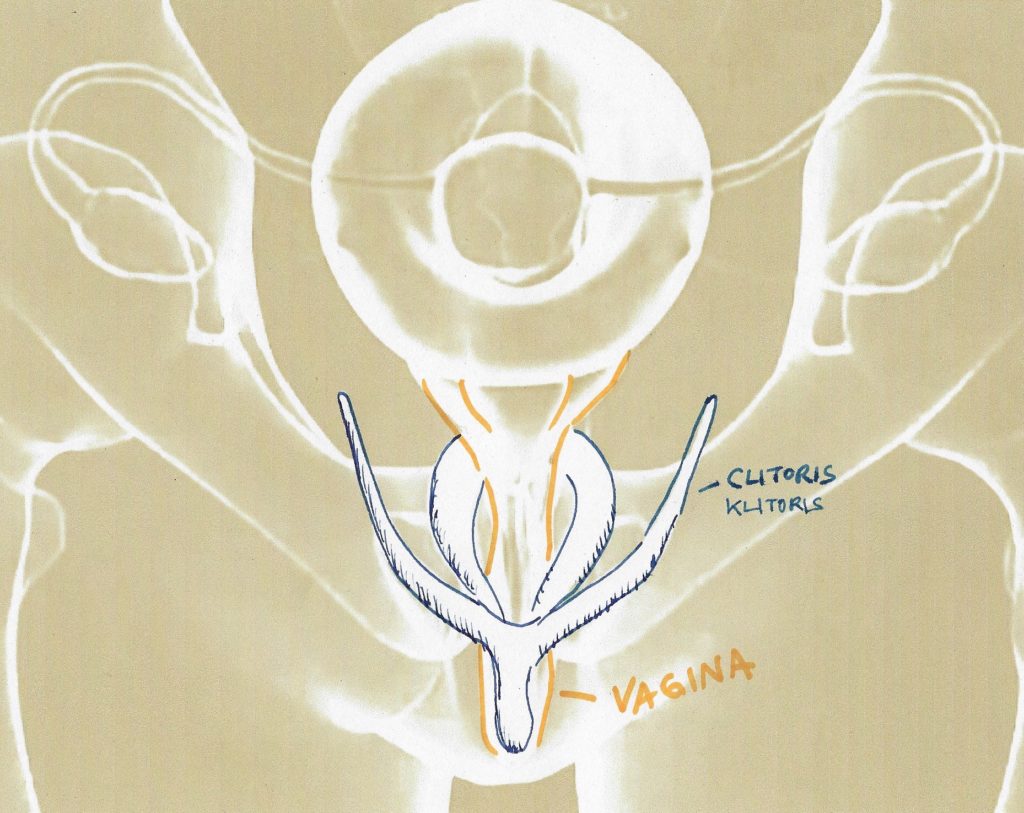 Fig. 2: Clit pic
* Note: Fig. 1 from Ewert, C., Karsten, G., & Schultz, D. (1976). Hexengeflüster – Frauen greifen zur Selbsthilfe 2. Berlin: Frauenselbstverlag. (p. 89)